Carmen and Brendan's Gold Coast Beach Engagement Session ~
Carmen and Brendan (plus their sweet and happy baby girl) were simply naturals at their recent Gold Coast Beach Engagement Session! This shoot is a perfect way to celebrate this phase of their lives and also capture some lovely family memories. And how beautifully did their simple clothing choices compliment the pastels of the dusk skies!
Q+A with the couple
When did you first tell each other that you loved them? Was it at the same time?
Can't remember hahaha (clearly very memorable moment)
What is your favourite memory of your courtship?
So many wonderful memories. The proposal was gorgeous. Having our baby was also beautiful
How did your proposal play out?
It was my 30th birthday. He booked a sunset vintage picnic on the lawn at kangaroo point cliffs for my birthday and proposed there
What is unique about your partner's personality that makes you love them?
So relaxed and easy going. Nothings a drama ever.
Considering your future together, what are you looking forward to the most?
Finding our forever home and making it ours to raise a family.
The Photographs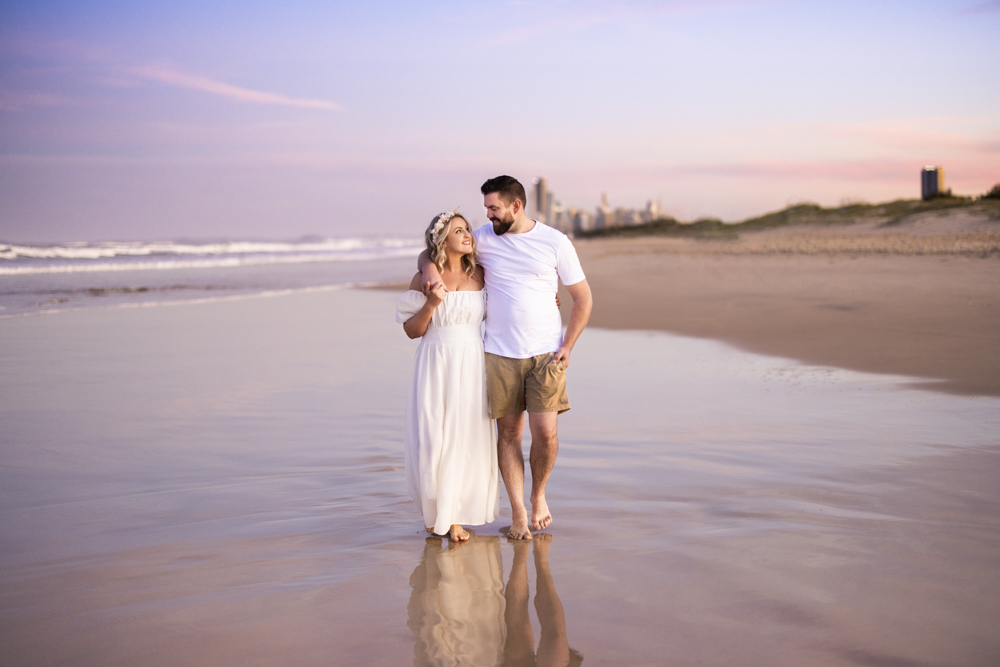 Gold Coast Beach Engagement Session, Beach Engagement Photos, Candid Engagement Photos, Engagement Photographers Gold Coast, Gold Coast Beach Engagement Photographers, Gold Coast Beach Engagement Photography, Gold Coast Beach Engagement Photos, Gold Coast Photographers, Natural Engagement Photos, Outdoor Engagement Photography, Pre Wedding Photographers Gold Coast, Queensland Engagement Photographers
Looking for an Engagement Photographer? Contact us today to arrange YOUR Gold Coast Beach Engagement Session!