Briony and Tamba's Sunshine Coast Hinterland Wedding~
On a glorious winter's day, after 14 years together, surrounded by their loved ones, Briony and Tamba exchanged vows and said "I Do"! Back in the Sunshine Coast Hinterland where they were engaged, Tiffany's Maleny was the stunning venue for their perfect day! We loved being apart of Briony and Tamba's celebration and are thrilled to share some of their favourite Tiffanys Maleny Wedding Photos.
The Vendors
Venue – Tiffany's Maleny
Flowers – Tiffany's Flowers
Hair – Rolling Scissors
Make-up – Lulu Beauty
Celebrant/Minister – Married By Luke
Gown Designer – Pronovias from White Lily Couture
Mens Wear – Merlai Firenze
Cake – Cupcake Elegance
Entertainment/Music – Dave West Music
Wedding Photographer – Alana and Cameron, Sunlit Studios
Videographer – James Scott, Boutique Imaging
Scenic Photography Location – On The View Maleny
Q+A with the couple
Who at your Wedding will be most likely crying? Why is this person special to you?
Bride's mum (obvious reasons)
What does your Wedding means to you?
Always and Forever
What led you to choose your ceremony location? Are there any particular characteristics that make it unique to you?
As we were engaged in the Sunshine Coast Hinterlands, we thought that the beautiful location was quite fitting
What are your favourite wedding details?
Tam is excited about the cake as he is especially partial to a slice.
What has been the most stressful part about planning your wedding?
Working out the timing for everything on the day.
Considering your future together, what are you looking forward to the most?
Having been together for 14 years, we are excited to make our destiny official and are excited for the next adventure as husband and wife.
Top 3 Tips for other couples?
Listen, communicate and plan, plan, plan (don't forget to make lists)
The Photographs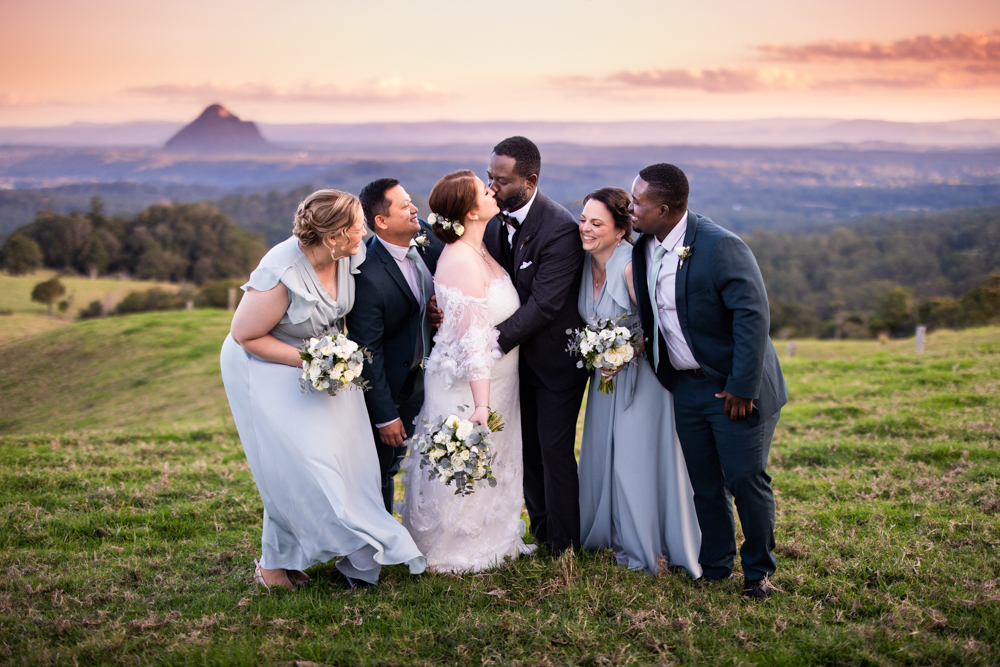 Tiffanys Maleny Wedding Photos, Brisbane Wedding Photographers, Brisbane Wedding Photography, Hinterland Wedding, Maleny Wedding Photography, On the View Maleny Photography location, Sunshine Coast Hinterland Wedding Photography, Sunshine Coast Wedding, Sunshine Coast Wedding Photographer, Sunshine Coast Wedding Photography, Tiffanys Maleny Photographer, Wedding Photography Tiffanys Maleny, On the View Maleny
Love these Tiffanys Maleny Wedding Photos? 
Contact us today to arrange YOUR Sunshine Coast Hinterland Wedding Photography!